7 reasons why your competitors don't want you to read this (and why you would want to have your own website)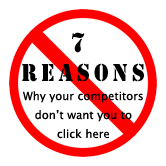 Forget about Yellow Pages, they are so last millennium! Today, Web Pages rule the world. Internet is a space where people increasingly look for information and services, and even if your business has nothing to do with the Internet or selling online, having an online presence is like claiming your piece of land on the Internet map. Internet "territory" is up for grabs, and if you don't seize it, your competitors will.
The truth is that your competitors probably already have their websites up and running and they happily rub their hands together while greedily eating your lunch. Competition is a game with a zero sum where the one who wins snatches from the one who loses.
The good news, however, is that even if your competitors have their websites and you don't, they may not yet be ahead of you in the game. You may ask, "How come? Doesn't that contradict what you previously said?" Having seen hundreds and thousands of the websites for small businesses, I estimate that at least 50% of them do more harm to their holders than good. Let me show you why, and how you can capitalize on this.
1. Do it right
Nowadays, almost everybody can build a website: your good friend, your friend's son or daughter, almost every high school student, and in some cases even your grandma or grandpa. But building it well is a completely different story. Only a few have even the slightest idea as to how to do it right, let alone how to promote their website over the Internet. Meanwhile, a website built unprofessionally can do more harm than good to your business. It might just look ugly, or irregular in different browsers. It may contain disorganized contents or it may be difficult to navigate. It may appear perfectly well done, but be invisible or have a very low rating to search engines like Google. In either case, it might be counterproductive to have such a website in the first place. Anyway, by now you have probably gotten my point: do it right, do it professionally or don't do it at all.
2. Search Engines are important
An experienced graphic designer can build you a beautiful website, flashy and showy, while a professional copywriter can put all the right contents in it. However, if you underestimate the importance of Search Engine Optimization (SEO), your website will be invisible to the majority of your potential customers. People increasingly search for services over the Internet using various search engines like Google, Yahoo, Bing, etc. You want your website to appear at the top of the first page of the search results. Well, on the first page, top or bottom, or at least on the second page. People rarely go beyond the second or third page of the search result. For example, a tour operator needs to find a tour guide for a Russian delegation visiting California. What would they do? Go online, open a browser, go to Google, and type in a search phrase that goes something like this: "Russian speaking tour guide in California". Try to copy this exact same phrase (without the quotes, of course) in Google. Now click "Search". Among the very top results are www.questing-california.com and www.isolda.us – both are my clients, by the way. That is where you want your website to be – at the top of the search results, not buried under pages and pages.
3. It does take time and persistence
It does take time and continuous effort to build up and nurture your website rating so it appears high in the search engine results. This is not a project with a set deadline, but rather an ongoing process. Search engines purposely keep new website ratings low to discourage unscrupulous short-lived businesses from taking advantage of the public. Just as it takes time to build up and preserve your business reputation, it also takes time to build and sustain your Internet reputation to the search engines which translates into your website search engine rating. The higher your website's rating, the closer to the beginning will your website be in the search results. Even if you are not planning to make the most out of your website right away, it is wise to start your business web presence by building a small website and "nurturing" it until the time is right for you to expand online. At that time your Internet reputation or rating will be ready to kick in and work for you 24/7. One word of caution - stay clear from promises of quick results. While some web marketers might impress you with speedy promotions, beware that they might be using less than legitimate techniques. When Search Engine companies discover their ploy they instantly drop your website rating direly and it is extremely difficult to regain it back.
4. Name your child
In the world of Internet, websites have to be identified in order for users (or visitors) to be able to navigate to one or another.
You want to give your website a memorable domain name relevant to your line of business. You also want to give it a short name for ease of remembering. Nevertheless, keep in mind that all one two or three character domains are not available, while most of the longer meaningful words aren't available either. One has to be very careful and creative in choosing the right domain name (which might also include hyphens, underscores, numbers, etc.) for his or her website as it becomes part of its identity, and consequently successful marketing.
Another thing to consider is a domain name extension (.com, .org, .us, and so on). There is a widespread opinion that only .com extensions are worthwhile. However, I found that besides being the oldest extension around, dot coms are no better than others. What is more important though is selecting the extension that relevantly supplements your domain name.
Keep in mind though that every second around the world, domain names are being grabbed with lightning speed. So if you come across a really clever domain name pertinent to your business, register it right away (presuming it's still available) even if you are not ready yet for the website.
5. Avoid Free Hosting
"If it's too good to be true it probably is". "There is no such thing as a free lunch". "You get what you pay for". These are commonplace truths that we all know very well. Still, many of us fall for "free something" deals without realizing that in the end we pay dearly for our natural instinct of greed. Free hosting is probably the most treacherous mistake one can make. You might think, "What can possibly go wrong?" In no time, my friend's teenage son made a beautiful web page for me on a free hosting site using their wonderful tools in exchange for an ice cream treat. What can be better than that? However, why would anyone ever want to give you all their tools and hosting space for free? The answer is simple: they want to use your website for their own purposes. While you will invest in promoting your site over the Internet they will use your website visitor's traffic to display their advertisements. In fact, they are going to use you more than you use them. You have no control over what advertisement they choose to display on your website. I could have provided you with some links here, but I don't want to embarrass people. Just imagine a classical opera soprano's website where "free hosting" displays male enhancement commercials. But there is more to it. Once you realized that you were duped, you want to re-deploy your website to an inexpensive and decent hosting, but now you find out that your website is bound to the "free host" and cannot be transferred. If you want to move it elsewhere you have to start developing your website from scratch.
The web hosting services nowadays are so inexpensive that you will be much better off by paying a few bucks a month and not falling for the "free" trap in the first place.
6. Keep it simple
Most web design and development companies will cater full blown websites containing, among other necessary things, a lot of bells and whistles. Flash, bang, movies, rock music, blinking advertisements! Who knows what they will do to grab your attention? The reason is they want to charge you more. In many cases, they will sell you that extra functionality as though they build it especially for you, while in reality they just resell modules that they have already had. To cut all this rubbish off, just try to focus on your goal and formulate the purpose of your website. If it's to attract new customers and make them interested in giving you a call or sending you an e-mail for more information, then your website should serve just this purpose and nothing else. No old news. No pictures of your beloved aunt Rose with a beautiful fluffy kitten (unless you are in business of selling kittens, or the purpose of the entire website is to please your aunt Rose). Try to look at your website with the eyes of potential visitors. Keep it as simple and user-friendly as possible. Your visitors will appreciate it.
7. Own it
When it comes to the point of signing a contract with a web developer of your choice, make sure that all files, contents, pictures, graphics, and copyrights belong to you, not to the web developer or any third party. Otherwise, if you are not satisfied with their services, you cannot just walk away with your website because it is not technically yours. When negotiating the price, do not just ask for a quote before discussing your needs – it's like asking for a car price without specifying make, model and year. To keep the price under control, do not shoot for all-inclusive and flashy sites just out of vanity. Consider your website as your business investment and as such treat it prudently.
Conclusion
I shared with you snippets of my knowledge, which I have accumulated over twenty years in the Internet business. My hope is for you to become more adept in this entire buzz over the Internet and websites. I covered very basic topics to prepare you for a respectful conversation and a possible collaboration. I have merely scratched the surface in order to engage you in making an informed decision. There are many more interesting topics to consider when designing a website to promote your business or product on the Internet such as social networking, blogging, internet marketing, etc. Bottom line is, please choose wisely.