How to bring printer back online
Sometimes, my HP Officejet printer stops working. It either goes into the offline status or just hangs and does not print. Nothing seems to help, not updating or reinstalling the printer's driver, not even restarting and reconnecting computer and the printer. That happened when I had Windows 8/8.1 and it still sometimes happens now when I have Windows 10.
If that happens to you, here is what you need to do.
First you need to check the Printing Queue. Go to the Control Panel → Hardware and Sound → Devices and Printers, right click on your printer icon and then select See what's printing:
In the Printing Queue window, Cancel All Documents, if there are any, and make sure that Use Printer Offline is unchecked: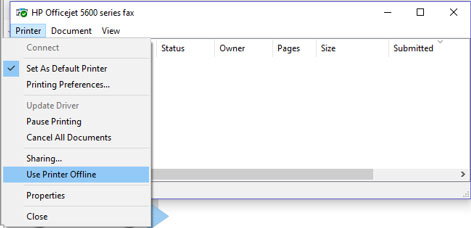 If that does not help, open Local Services and Stop (wait until it stops!) and then Start Print Spooler:
Usually Print Spooler restart does the trick and the printer works again.