Should you build your website using WordPress?
WordPress is a free Contents Management System (CMS) – a platform that many modern websites are built on. It is extremely pervasive, powering about a quarter of all websites and considerably surpassing its closest rivals - Joomla and Drupal: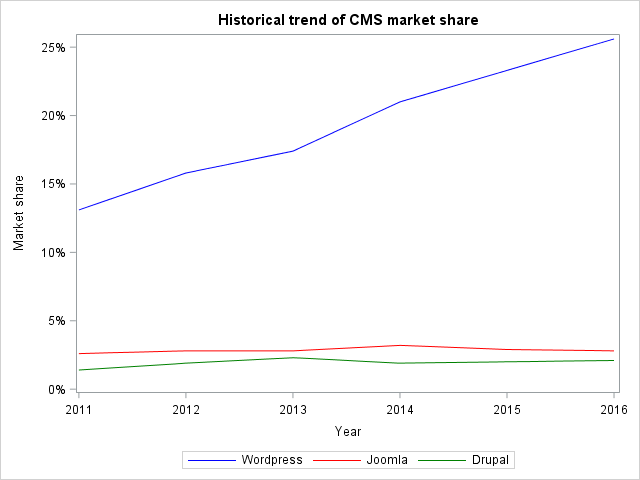 The above line chart illustrates the historical trend of CMS market share. It is created based on the following data source:

In today's market, WordPress-powered sites have 59% market share of all Content Management Systems (CMS).
Why WordPress is so popular?
There are two major factors contributing to the popularity of WordPress:
Ease of learning and use;
Full control over site contents.
However, while these two factors are a definite plus for personal blogs or other non-commercial sites, they quickly become a liability for commercial sites where unrestricted amateurs on the loose can do more harm than good for the website's usability, searchability, and appeal. I've seen my fair share of WordPress sites created and maintained by ... say, medical doctors, with messy contents, convoluted navigation, inconsistent style, and non-existent (at best) or counterproductive search engine optimization. I still have no good explanation of why those doctors decide to do-it-yourself their websites while I am still hesitant to do-it-myself a surgery or colonoscopy...
Two faces of WordPress
WordPress comes in two quite different flavors:
1. WordPress.com
This is the fully hosted and supported version, which is most suited for personal sites (bloggers, photographers, artists, etc.). You must register for an account on WordPress.com and abide by their Terms of Service. There are free and premium accounts available; the latter may include a custom domain, premium hosting, security, and backups. Keep in mind that free version shows ads on your blog.
2. WordPress.org
This is the self-hosted version, whose software is available for free at WordPress.org. You must register and renew your domain name, have your own hosting and perform backups and maintenance yourself. No registration with WordPress.org is required. This type is most suited for commercial websites of various sized businesses.
Both, WordPress.com-hosted and self-hosted WordPress versions allow you to choose from hundreds of beautiful themes – some are free, some are premium – or make your own custom themes with PHP and CSS.
Factors to consider when choosing your website platform
While WordPress is quite a powerful and incredibly popular tool for your web presence, it is not always perfect for the job. There are still many factors that you must consider when deciding whether to develop your site in WordPress or to build a good-old HTML/CSS/Javascript/PHP website:
Static vs Dynamic contents
If your website contents are not going to change frequently, you will most likely be better off with a static HTML/CSS/Javascript/PHP website. Otherwise, you should consider WordPress or another CMS platform.
Speed
Generally, WordPress websites use many different plugins, have an overhead complexity and as a result use a lot more hosting resources and are considerably slower to load than "static" HTML sites. This factor negatively affects usability as well as search engines' rankings.
Vulnerability
WordPress stores most of the website contents in a database (MySQL), which is prone to a so-called SQL injection attacks by hackers. If not frequently and properly backed up, your MySQL database might be irreversibly destroyed by such an attack, leaving your WordPress site in ruins. Don't assume "it's not gonna happen to me," - it does happen fairly often and usually at the most undesirable time. In the worst-case scenario the whole contents are lost and the website needs to be completely rebuilt. HTML sites, on the other hand, while also potentially subject to hacker attacks, are quickly and easily restored in case of such an attack.
Maintenance and Expense
WordPress constantly improves and issues multiple updates, which are well-intentioned, but often create compatibility issues requiring updating your website template, some of the plugins etc. This may substantially add to your website maintenance budget, requiring designer and programming resources to take care of these updates. While WordPress updates are often imposed on you, with simple HTML sites you can update them just the way you want, at a time that is convenient to you.
Search Engine Optimization
WordPress is SEO-friendly by design, but in reality you can easily run into SEO problems, unless you fully understand how the tagging and category system work in WordPress. Without that deep understanding, every step you take creates more SEO problems than it solves. Ease of use makes the false impression that everything is taken care of by WordPress, though it is not. Still, in order to do it right, you must have non-superficial knowledge of the WordPress framework, which is much more sophisticated than the one of HTML sites. Some of the SEO features are not as easily accessible in WordPress as in HTML sites. Besides, do you know how to write SEO-friendly contents?
Content writing
Finally, with WordPress you have gotten that long-desired independence from those annoying copywriters and webmasters. However, with that independence and freedom comes responsibility. Are you a good writer who understands psychology of marketing and who can write contents that sell? Are you writing to please yourself (or your wife, aunt, dog, cat...) or you know exactly how and what to write to attract and keep your clients? With WordPress you are the one who creates the content and you are fully responsible for making that content work for your goal, not against it.
---
I hope you've got some food for thought and are now closer to making an informed decision on selecting the right platform for your website. At least you can start thinking whether you should build your website using WordPress or not. If you are ready for action or are still undecided, Lenetek is ready to help.