Web Browser Tips and Tricks
Here, you can find a collection of different tips and tricks that will make your Internet browsing experience richer and more enjoyable. Some of the techiniques work across most of the Internet browsers; however, some work only in certain web browsers. You are welcome to report any error or omissions, as well as new browser tips and tricks you come across.
Open a Link in a New Browser Tab or a New Browser Window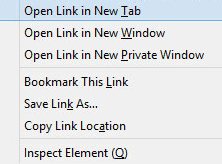 There are two ways of doing that:
1. Using just one hand. Right-click on a link, then select Open Link in New Tab. Alternatevely, you can select Open Link in New Window or select other actions as you can see from the picture on the right.
2. Using both hands. Hold down Ctrl key when clicking a link to open the link in a new browser Tab. Hold down Shift key when clicking a link to open the link in a new browser Window.
Bonus. As you can see from the picture on the right, you can select Save Link As... to effectively save a shortcut to the link on your desktop or in another folder. (Well, in Internet Explorer, it is Save target as...).
Restore Your Last Closed Browser Tab
It might be frustrating and even exasperating: you thought you are done, clicked on the "x" and closed a web browser tab just to realize a moment later that you were not done yet, you forgot something very important. Damn!
Luckily, there is a little known secret. You still can restore your last closed tab by merely pressing the following "magic" keys, all at the same time Shift-Ctrl-T. This will open up your last closed tab with all the information you thought is gone and lost. What a lifesaver! It works in Internet Explorer, Chrome and Firefox.
You can even press Shift-Ctrl-T multiple times, each will restore one more tab that was open prior to the previous.
Bonus. What if you closed the browser itself with all the tabs? Well... although it is not as easy as in the previous scenario, but still you can press Ctrl-H (for History panel) where you can view a list of the websites you visited and return to the one you want.
Use a Web Browser as a Notepad
Open your web browser and type in the URL field:
data:text/html, <html contentEditable>
and now your browser has turned into a Notepad, you can type in it anywhere and anything you want, you can paste to it (Ctrl-V)), or you can select and copy (Ctrl-C)) in order to copy somewhere else.
If you like this feature, you can even place it on the Favorite bar. In this case, I suggest typing the following line in the URL filed:
data:text/html, <html contenteditable><title>Notepad</title>
and then dragging the image in front of this URL string and dropping it to the Favorite bar, it becomes a button. Then, every time you need a Notepad at your fingertips, just click on that button and turn your browser into a Notepad:

The cool thing is that you do not even have to be connected to the Internet to use this browser feature.